UGPSC News
The latest news from the Ulster Grand Prix Supporters Club
The Ulster Grand Prix 2019 Fundraiser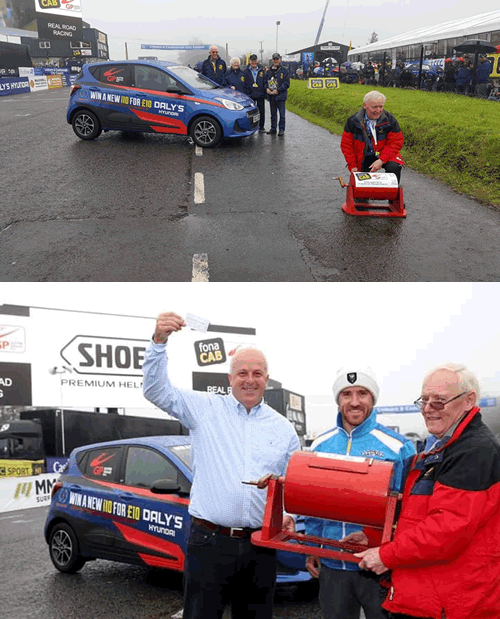 Winner drawn
The draw for the Hyundai 'i10 supported by Daly's Hyundai, took place on Saturday, 10 August at 10.00am on the starting grid before racing commenced.
Congratulations to the three lucky winners.
Winner: Stephen Muldoon
Runners Up (VIP Passes for 2020 UGP): Chris Robinson; Brendan Byrne
Photo photo by Donna Connolly Webb - l-r (background) UGPSC Committee Members Henry Miskimmon; Valerie Miskimmon MBE; UGPSC President Bertie Bradford and Raymond Connolly foreground; UGPSC Chairman, Des Stewart with the tickets.
bottom photo - l-r Alderman James Tinsley (LCCC); Lee Johnston and Des Stewart (UGPSC Chairman).
Sat Aug 17 2019
2019 Grand Annual Prize Draw
CONGRATULATIONS To the three lucky winners of this years Grand Annual Prize Draw
First Prize (£250) M Osborne
Second Prize (£150) Brian Forsythe
Third Prize (£100) Ian Tweed
The draw took place at our recent Annual General Meeting.
Also a big 'THANK YOU' to everyone who bought tickets. I don't need to remind any of you of the aim of the UGPSC - 'to preserve the Ulster Grand Prix on the Dundrod Circuit'. The monies raised by us, through you, go directly towards keeping the bikes on our world famous road circuit. The Grand Annual Prize Draw continues to be one of our major 'fundraising' activities.
Thank you again for your continued support. We look forward to seeing you at Dundrod in August.
Sun Apr 28 2019
Letter from Planning Appeals Commission
IMPORTANT ANNOUNCEMENT - ACTION TO TAKE REGARDING THE PLANNING APPEALS COMMISSION LETTER
The Ulster Grand Prix and the Ulster Grand Prix Supporters Club will be organising a coordinated response to the Planning Appeals Commission's letter received.
Thank you to everyone who has made an enquiry about the recent letter that members and supporters have received from the Planning Appeals Commission. To continue to support our ongoing objection to the proposed cemetery on the Ulster Grand Prix circuit, we are happy to act as Agents on your behalf- if you so wish.
For your convenience, simply print the attached letter and fill in YOUR details in the first box.
If you wish to use the pro forma sent to you in the mail:
Fill in YOUR name and address.
Indicate you OBJECT to the planning.
Allow us to act as the Agent on your behalf by adding these details in the second box
Name of Agent- UGP Supporters Club & UGP
Address- Grand Prix House, 3/7 Hannahstown Road, Dundrod, Lisburn BT28 3TB
Email address: des@ugpsc.com
Lastly, tick the first small box:
'I wish to participate further in the proceedings and I/my agent will
submit a Statement of Case when requested to do so.
Note the closing date for returned forms is 4pm on Thursday 11th April.
Thank you for your help.
Sample PAC Objector/Supporter Pro Forma
Tue Apr 2 2019
2019 Membership Renewal - REMINDER
The 2019 Membership Renewals were posted out some time ago. This is just a quick reminder to anyone wishing to avail of the Exclusive Members Race Week Wristband Offer, that the closing date for applications is strictly close of business, Friday, 5 April 2019.
This is also the closing date for the return of Ticket Stubs and monies for the UGPSC Grand Annual Draw which will take place at our forthcoming Annual General Meeting.
UGPSC 2019 Membership Pack - £15.00 (18.00 Euro)
Metal Lapel Badge, Car Sticker and Race Card of Events
UGPSC Collectors Badges - £5.00 each (6.00 Euro)
4 individual UGPSC Logo badges
UGPSC Annual Prize Draw - £1.00 each (1.20 Euro)
Ticket Stubs and Monies to be returned no later than 5 April 2019
Prizes: First - £250; Second - £150; Third - £100
Exclusive Members Offer - £20.00 each (25.00 Euro)
Bike Week Admission Wristbands – maximum of 5 per member
Closing date for offer strictly close of business, Friday, 5 April 2019
Fancy an i10 for a tenner? -Tickets £10.00 (12.00 Euro)
Ulster Grand Prix 2019 Fundraiser – Your chance to win a Hyundai i10 car
Sun Mar 31 2019
New Archive